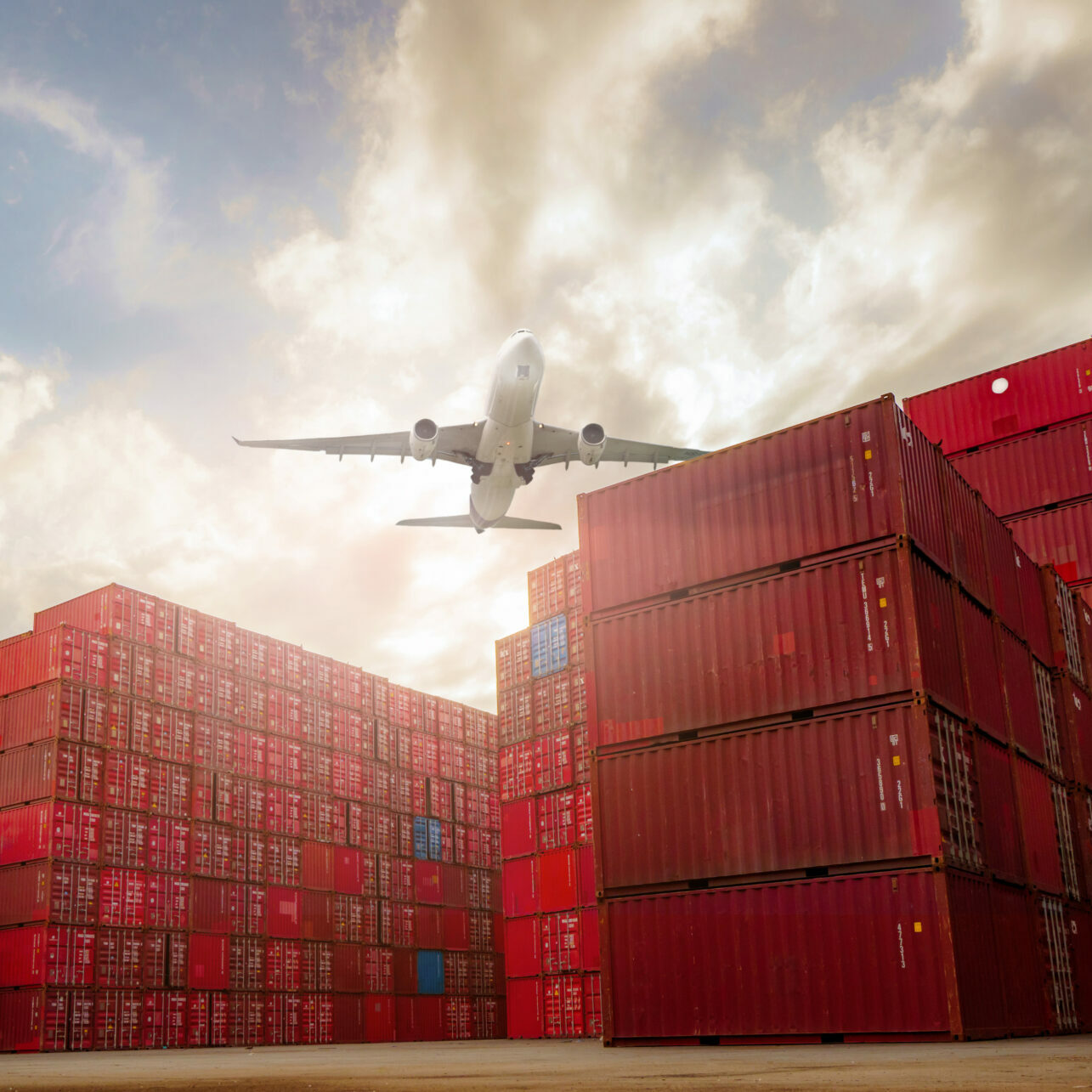 Will the supply chain ever catch a break? While the industry continues to be rocked by world events, uncertainty has become the new normal.
With every link of the supply chain impacting businesses both large and small, keeping up with the globally disrupted supply chain evolution is a recipe for whiplash. In this blog post, we've compiled a list of over 100 supply chain crisis statistics to help you stay informed and build a more agile, resilient supply chain.
Statistics covered in the article include:
But, before we dig into the data – let's start on a positive note:
It's no secret there are plenty of issues at play within today's supply chain crisis. But, before we dive into the statistics, it's worth noting – today's supply chain professionals have risen to the challenge.
Industry professionals have put in tireless hours and taken strategic measures to keep the supply chain moving and meet customer demand. Such measures include communicating with suppliers and customers, using demand shaping to overcome inventory shortages, seeking additional suppliers, and building more onshore facilities.
Learn more on how to overcome today's supply chain challenges by securing the free guide, 8 Winning Strategies to Combat Supply Shortages.
And, to all of our supply chain friends – we thank you for your endless efforts to keep the supply chain in motion!
How the Supply Chain Crisis is Impacting Businesses and Consumers

Raw Material Shortages Are Affecting a Challenged Supply Chain
Inverto's annual raw material study revealed that 89% of respondents were experiencing limited availability of raw materials. 49% of respondents were from the manufacturing industry, 16% from the mechanical engineering sector, and 11% from the automotive market. (Consultancy UK)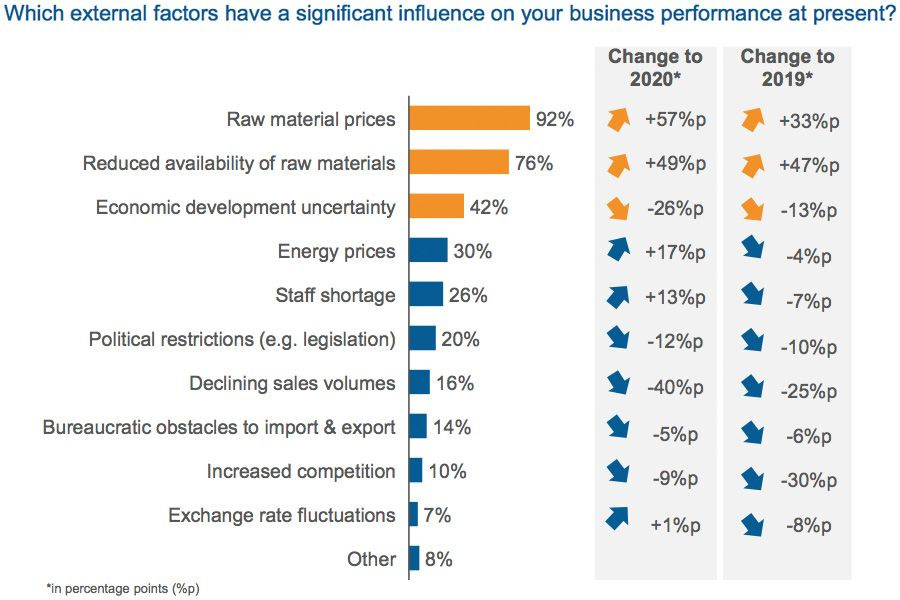 Source: Consultancy.UK
Due to petrochemical producers cutting production following Covid-19, and a variety of storms and hurricanes, base chemicals are in short supply, leading to slower production at paint makers including Sherwin-Williams and PPG. In fact, Sherwin Williams cut sales by 3.5% in the second quarter of 2021 due to a lack of raw materials. (PBS)
China slowed production of aluminum and other energy-intensive metals in 2021 in an effort to reduce carbon emissions, leaving primary production in the country 1.2 million below the bank's expectations. (Supply Chain Dive)
Wildfires, mudslides, and flooding delayed lumber shipments, leading to a shortage that saw the cash market price for lumber reach $1,111 per thousand board feet in 2022 – almost triple its bottom price in August. (Fortune)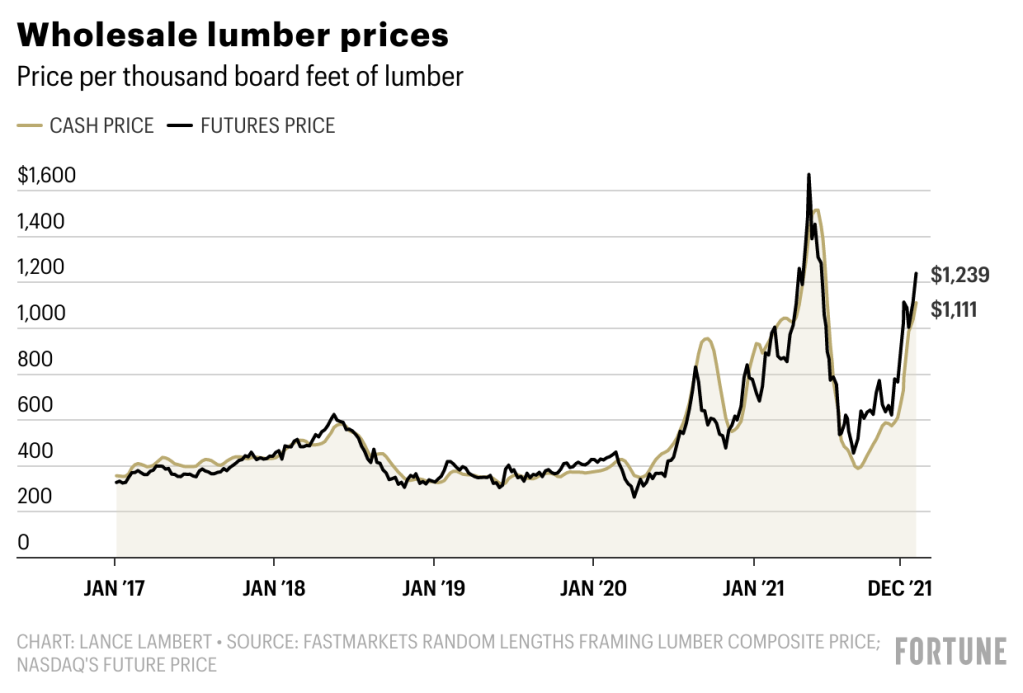 Image source: Fortune
Plastic resins were in short supply all of 2021, with prices skyrocketing by up to 50%. (Supply Chain Dive)
Over 90% of SMEs in Europe's plastics converting industry were affected by the supply crisis, with many plastic converters reducing production and accepting less – or no – new customers. (European Plastic Converters)
Cotton production in India could dip 4% from 2021, down to 34 million bales in the 2021/2022 marketing year. (Reuters)
It is believed the deficit in the global refined copper market deepened to almost 900,000 tons in 2021, following 2020's deficit of 530,000 tons. (FastMarkets)
Global paper output is expected to be 4 million tons short of its 2018 level, with predictions of 416 million tons in 2022. (IWCO)
The Semiconductor Shortage and Plans for Increased Chip Production
A variety of chips will remain in short supply throughout 2022. As some component lead times push into 2023, the shortage is expected to last 24 months before it recedes – similar to the chip shortage of 2008-2009. (Deloitte Global)
AlixPartners predicts shortages related to semiconductors will cost the auto industry $210 billion in revenue this year. (AlixPartners)
Global semiconductor industry sales reached a total of $555.9 billion in 2021 – the highest ever, and 26.2% higher than 2020. (Semiconductor Industry Association)
The United States' and Europe's production of global semiconductors decreased from approximately 80% in 1990 to 20% in 2020. (Financial Times)
Taiwan Semiconductor Manufacturing (TSMC), the company that makes the majority of latest-generation chips for Apple products, has committed to increasing capacity by spending $100 billion across the next three years, and building new factories in Arizona and Japan. (Wall Street Journal)
2021 chip revenues measured as a percentage of global GDP were 130% higher than they were 30 years ago. (Deloitte Global)
81% of semiconductor contract manufacturing was based in Taiwan or South Korea in 2020 (Deloitte Global), but The United States passed a $52 billion dollar Chips for America Act in an effort to bring the manufacturing of microchips back to the United States. (Wall Street Journal)
Intel is investing over $20 billion to build two new chip factories in Ohio. (Intel)
Covid-19's Impact on the Supply Chain Crisis
Following the outbreak of Covid-19, 93% of senior supply-chain executives reported their intent to make their supply chains more flexible, agile, and resilient. (McKinsey)
COVID-19 caused supply chain disruptions/delays for 38.8% of small businesses in the United States. (United States Census Bureau)
Prior to Covid-19, 45% of consumers never considered the supply chain when making purchases. Following the pandemic, 91% now do. (MarTech)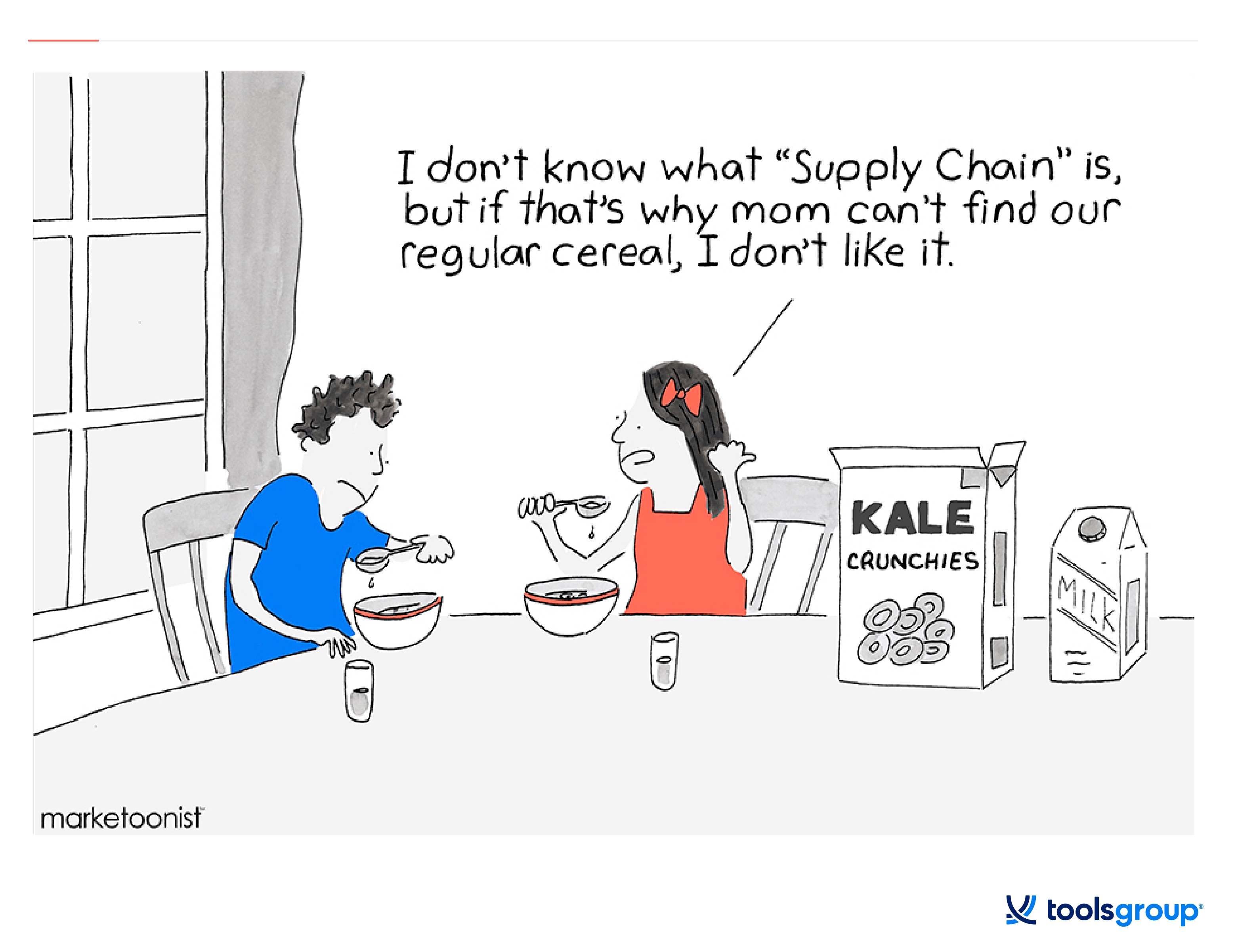 How the War in Ukraine is Impacting the Supply Chain and Raw Material Prices
In response to the Ukraine invasion, Europe's wholesale gas price surged by 69%. (Financial Times)
Due to the Ukrainian war and impending inflation, Apple plans to make approximately 20% less iPhone SEs than originally planned in the second quarter of 2022. (Nikkei Asia)
Natural gas prices in Europe and curbs on exports from Russia and China are expected to keep fertilizer in high demand through 2023, which will lower crop yields. (Supply Chain Dive)
Due to risks associated with global food security and the uncertainty surrounding potash (fertilizer potassium) production in Eastern Europe, Canadian potash company Nutrien Ltd is increasing production by over 10%, to 15 million metric tons. (Wall Street Journal)
Because Russia and Ukraine are leading exporters of grain, wheat futures in Chicago rose by almost 6% to $9.26 a bushel, the highest price since July 2012. (Financial Times)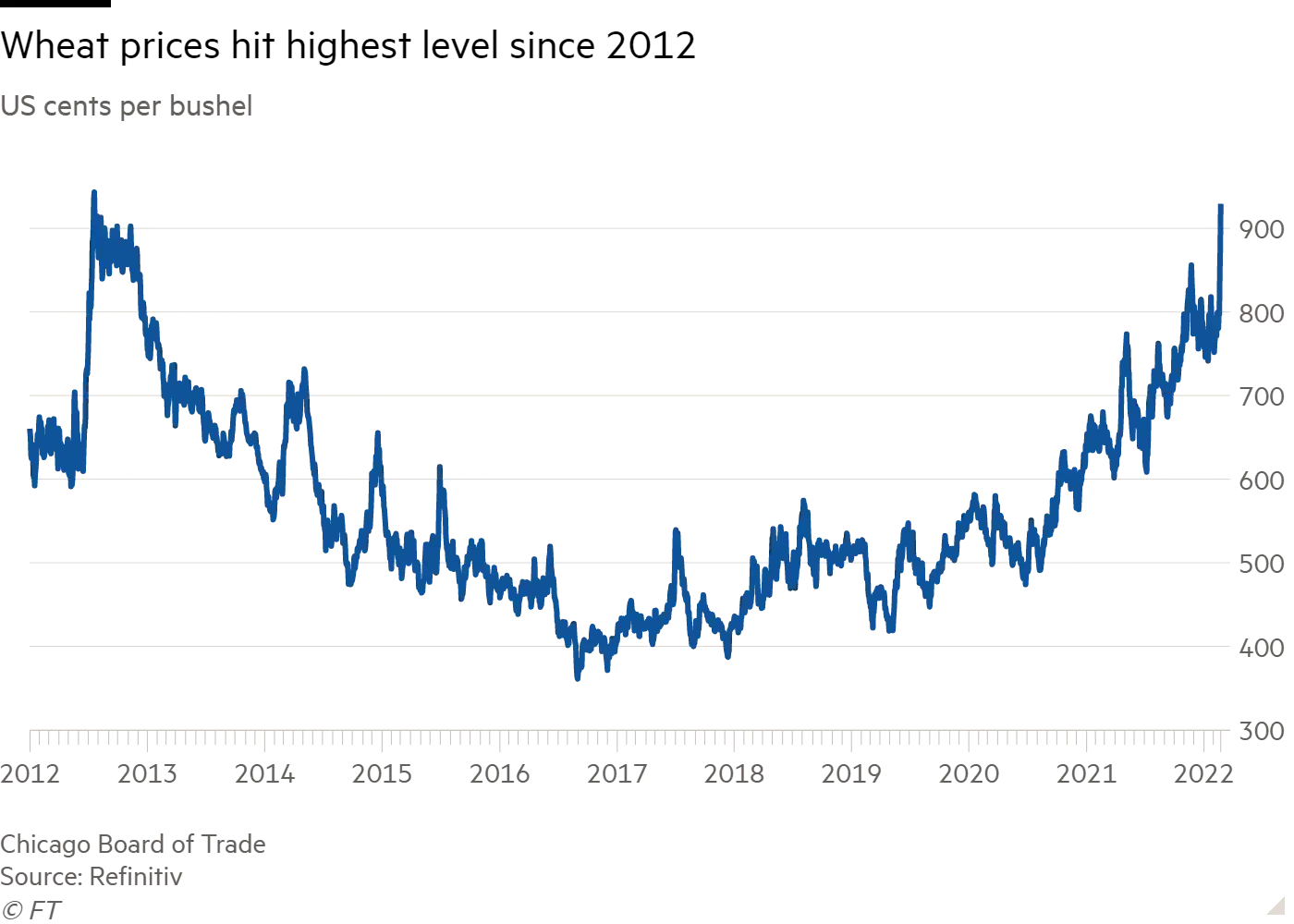 Image source: Financial Times
Resources and Suppliers Tied to Ukraine and Russia
Increased Prices Resulting from Shortages and Supply Chain Issues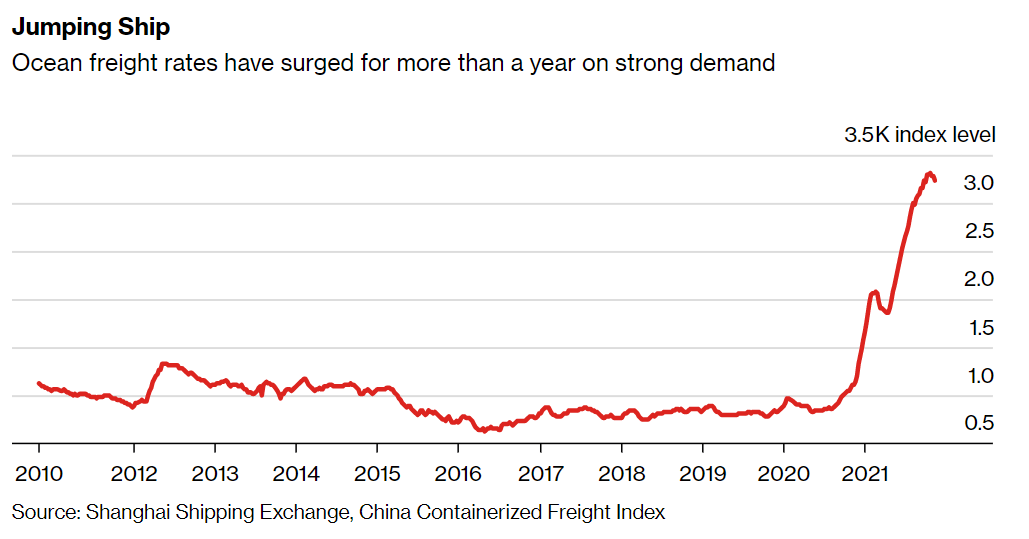 Image source: Bloomberg
Surging natural gas prices in Europe pushed some producers to curtail aluminum production, resulting in more than 650,000 tons of lost production capacity since October 2021. (Supply Chain Dive)
Construction input prices are up 22.3% from 2020, with nonresidential construction prices up 23.2%. (Associated Builders and Contractors)
Aluminum prices rose to a record high of $3,449 per ton at the end of February, due to the Ukraine invasion. (Financial Times)
Increased Shipping Costs, Delays, and Transportation Issues
Imports from Asia to the United States increased by 40% from 2019 to 2021, while the volume of exports remained almost unchanged. This means carriers have not been able to fully utilize their capacity and meet the demand for container shipping, which is why freight rates are reaching record highs. (Statista)
Retailers like Amazon are chartering private cargo ships, making their own containers, and leasing planes to bypass supply chain disruptions like long wait times for dock space and workers. (CNBC)
At the Port of Long Beach (near Los Angeles), waiting time to discharge or pick up cargoes ranges from 38 to 45 days, with constraints expected to continue. (Famous Pacific Shipping Group)
In December 2022, The United States Department of Transportation awarded grants totaling over $241 million to support ports. (U.S. Department of Transportation)
Trucking costs increased by 36% year over year in 2021 due to bottlenecked materials, ports, and pandemic customer demand. (Supply Chain Brain)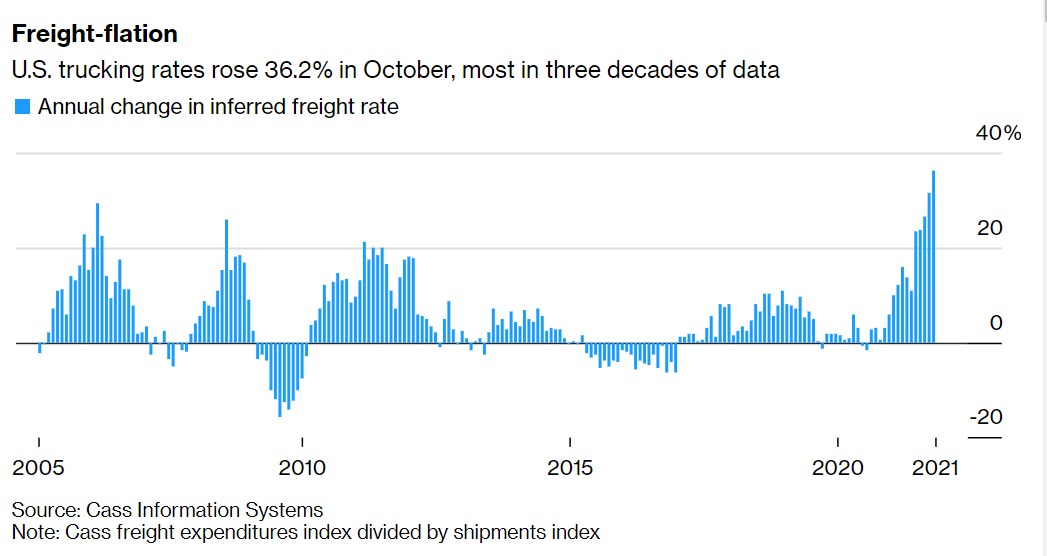 Image source: Bloomberg
The increased Use – and Rate – of Airfreight
IATA data shows global demand for air cargo markets jumped 3.7% compared to November 2019, or a 4.2% increase for international operations. (Logistics Management)
Air cargo prices are now only six to eight times higher than ocean freight prices, while in a typical year, they would be 10 to 20 times higher. (Fast Radius)
Airfreight rates experienced a big growth curve in Q4 of 2021. Globally, December rates were 168% higher than December 2019 and 42% higher than December 2020. (The Load Star)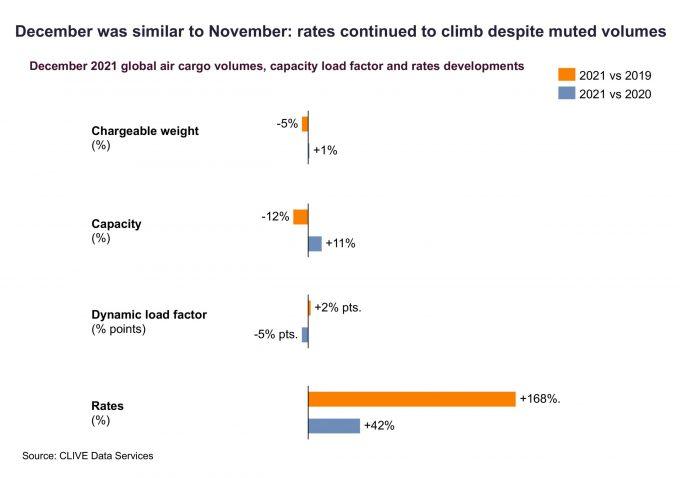 Image source: The Load Star

Air cargo carriers in North America posted an 11.4% increase in international cargo volumes in November 2021 compared to November 2019.
In November 2021, global air freight traffic (measured in tonne-kilometres) saw a 3.7% year-on-year increase. (Upply)
Despite a fall in cargo volumes and November 2021 capacity levels that were almost stable, airfreight rates continued to increase in 2021, including a 9.1% increase on the Intra-Asia Corridor. (Upply)
At the beginning of February, South Carolina's Port of Charleston had a line of 15 ships anchored nearby waiting to offload. The port estimated the bottleneck would take 6 weeks to clear. (Bloomberg)
Because European carriers experienced localized capacity restraints and congestion in the supply chain, international capacity was 9.9% lower in November 2021 than pre-crisis levels. (Logistics Management)
Find out how to overcome shipping challenges with these key transportation optimization trends: Here
Dealing with the Shipping Container Crisis
New York Times analysis predicts the shipping container shortage will not resolve in 2022. (New York Times)
For every dollar of interest owed, container lines reached $12.86 of earnings before interest and tax (EBIT). (Journal of Commerce)
Demand container capacity is expected to exceed the actual capacity available through 2026. (Journal of Commerce)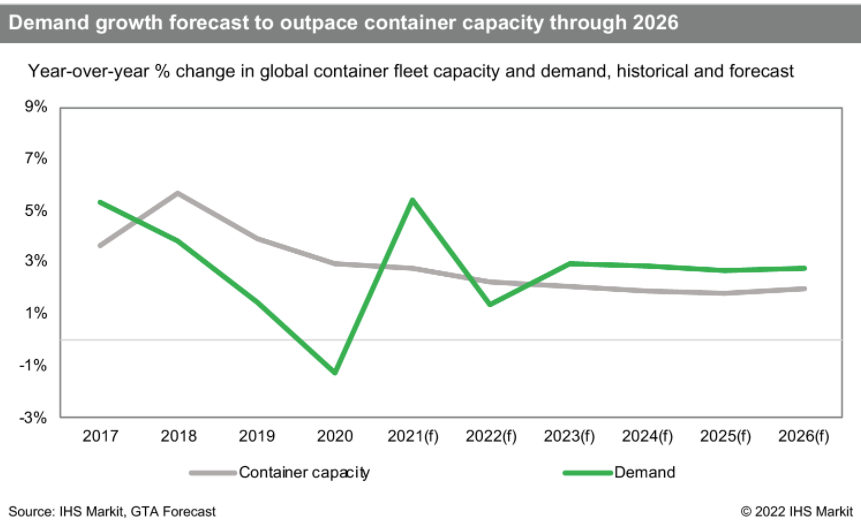 Image source: Journal of Commerce
How Labor Shortages Have Hurt the Supply Chain
The American Trucking Association (ATA) data shows that the industry could be short by over 140,000 drivers by 2026, increasing the driver shortage to over 160,000 drivers by 2030. (Trucking.org)
While millennials and Gen Z make up the majority of eligible candidates to fill open roles, they show an innate mistrust or misperception of the supply chain and manufacturing industry. (Forbes)
Unfilled jobs and a manufacturing skills gap are expected to cost the United States as much as $1 trillion by 2030. (Datex)
2.1 million jobs critical to the supply chain and manufacturing industry will remain unfilled by 2030. (Forbes)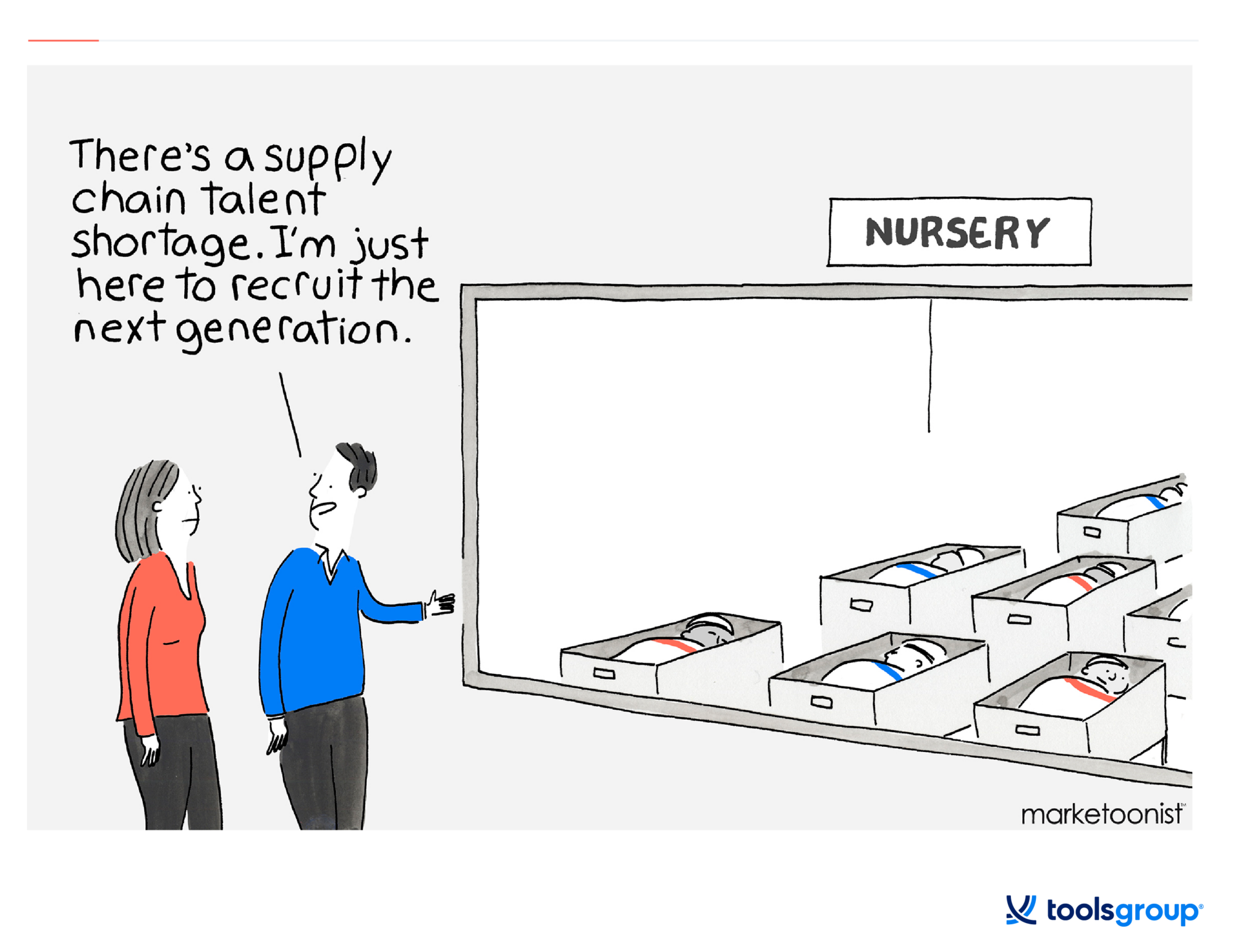 47% of shippers and 73% of 3PLs report that finding, training, and retaining qualified labor is a top challenge. (Inbound Logistics)
2021 experienced the most factory fires ever recorded in a single year. Resilinc sent out 1,946 factory fire alerts, marking a 129% YoY increase. The uptick's been attributed to gaps in regulatory and process execution, and a shortage of skilled labor in warehouses. (Resilinc)
On the last day of December 2021, the number of job openings in the US was 10.9 million. The job openings rate was 6.8%. (Brookings)
The highest quit rates are in leisure and hospitality (6.4%), wholesale and retail trade (4.4%), professional and business services (3.7%), durable goods manufacturing (2.1%), and financial activities (1.7%). (US Chamber)
Even if every unemployed person with experience in the durable goods manufacturing industry were employed, only 65% of vacant jobs would be filled. (US Chamber)
Struggling to find talent for your supply chain team?
Get answers on how to find – and keep – talent in just three minutes. Watch the video with expert insights from Doug Johnson, President of Valor Partners, now.
How Businesses and Supply Chain Professionals are Responding to the Crisis
75% of procurement managers and Managing Directors from the EU and UK believe passing on increased raw material costs to customers is appropriate. (Consultancy UK).
Nearly 90% of senior supply-chain executives plan to pursue regionalization to some extent over the next three years. (McKinsey)
Retailers short on storage space are buying warehouses rather than waiting for supply chains to straighten out. (The Wall Street Journal)
In March of 2022, 18 businesses from supply chain segments (including private businesses, trucking, warehousing, ports, and logistics) joined the Freight Logistics Optimization Works (FLOW) initiative launched by the White House. (Forbes)
The perceived relevance of passing on costs to customers increased by 26 points throughout 2021. (Consultancy UK).
Over the past year, 59% of companies have implemented new supply chain risk management practices. (World Economic Forum)
Retailers are responding to the chicken shortage by increasing prices and, in some Australian stores, limiting purchases to two chicken breast items per customer. (ToolsGroup)
Because of supply chain disruptions, 55% of companies already have or plan to downgrade their growth outlooks. (Accenture)
To overcome supply chain challenges following Covid-19, 61% of companies increased inventory of critical products. (McKinsey)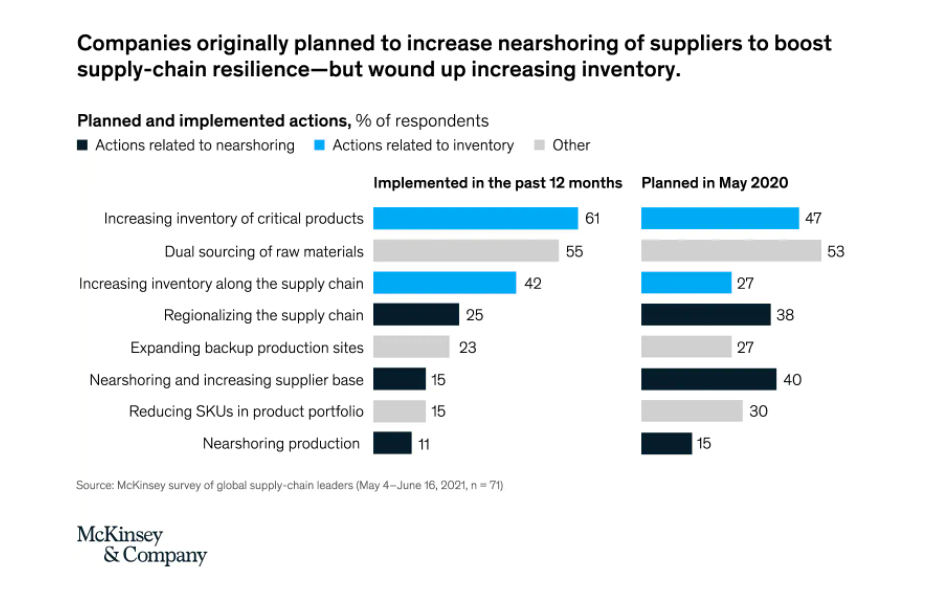 Image source: McKinsey
Building Resilience in the Face of Supply Chain Challenges
Okay, so – we don't dispute it, the supply chain is facing some challenges.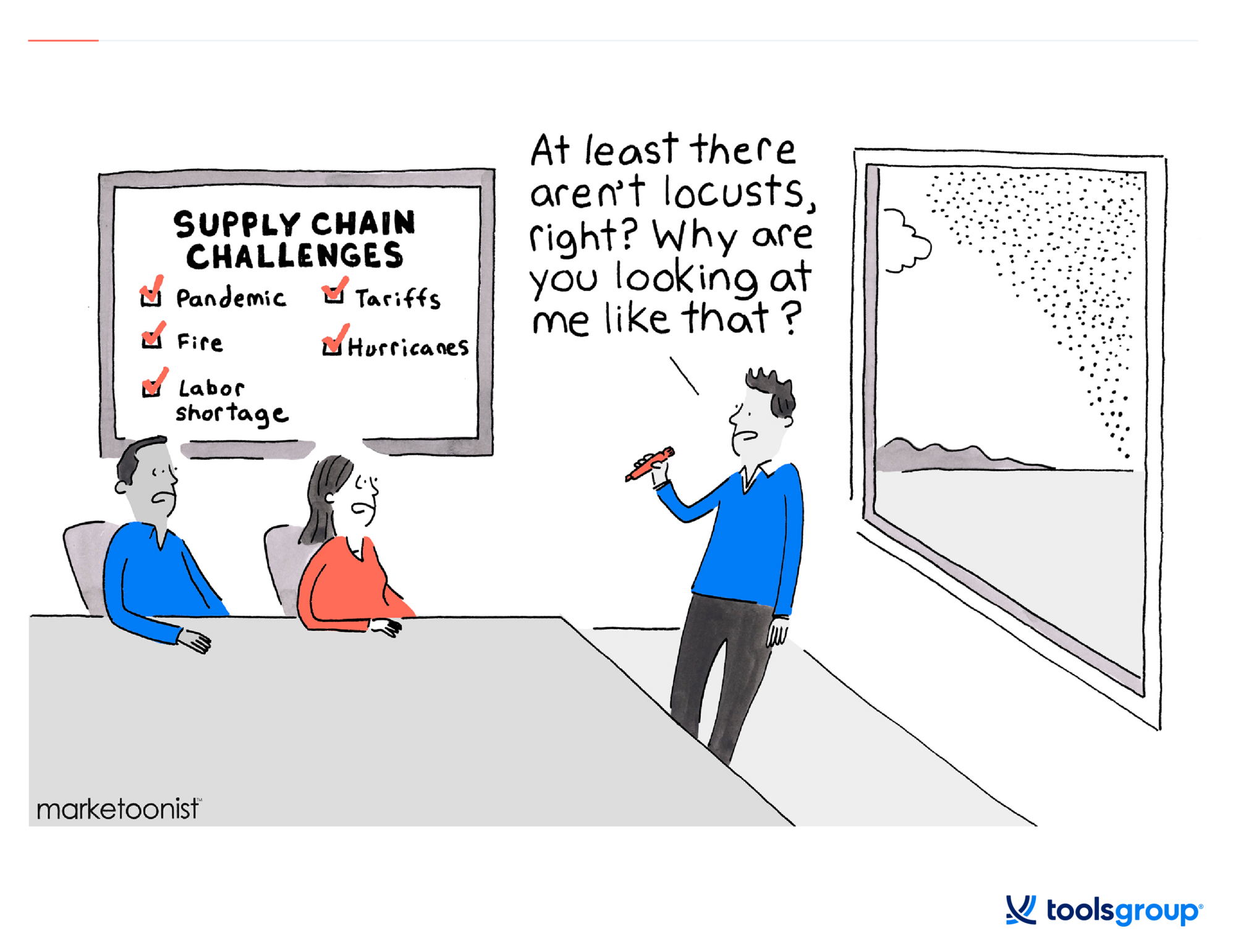 Even though supply chain struggles continue, every link within the chain continues to build and increase its resilience.
And, on a brighter note, according to Business Wire, the global supply chain management market is poised to reach $37.41 billion in 2027.
If you're facing shortages, inflation, or delays, remember – you're not alone. That's why we compiled the top lessons learned by 11 industry professionals in overcoming supply chain challenges.
Get more tactics to be ready for anything with your free playbook: GAME ON: A Planner's Playbook for Rapid Response to Supply Chain Disruption.
The source of this article is from ToolsGroup
By Martha Kendall Custard