As the pressure on supply chains to deliver for customers while protecting the bottom-line continues to escalate, the need for smart technology investments that can deliver those outcomes has never been greater. This new reality also has a direct impact on the relationship between IT and supply chain.
In a recent Gartner survey, 61% of respondents said technology is a source of competitive advantage. Many also identify several emerging technologies as critical investment areas. Successful collaboration between IT and supply chain is no longer an option. It's a business necessity.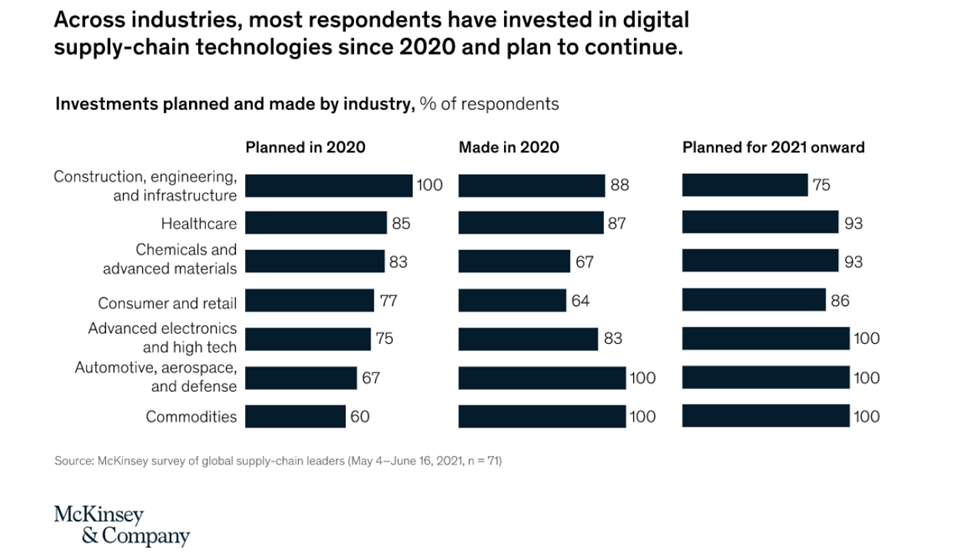 To make the most of your supply chain-IT partnership, first, let's take a step back to understand the evolution of IT's relationship with the business side of the house to avoid falling into old patterns and habits.
Traditionally, IT has been viewed as an organization that implements the technology the business needs. In many circumstances, objections from IT often led to the business bypassing IT altogether and purchasing solutions they felt would meet their needs, whether those solutions aligned with the overall technology strategy or not.
We're now in a new era of supply chain-IT collaboration and the old ways of thinking are going the way of the dinosaurs. Here are three secrets to a collaborative supply chain-IT partnership.
1: Work Smarter to Deliver Results
Create a cross-functional squad or pod
Breaking down silos to deliver business results is not new but a new way of collaborating is emerging: dedicated pods or squads composed of individuals from IT and supply chain. With this approach to a software evaluation or other critical project, everyday responsibilities and job functions take a back seat to alignment and agreement on the value to be delivered.
A typical supply chain-IT squad could include the following functions/roles:
The business unit
Logistics
Supply chain planning
Demand planning
IT
Data and analytics
Order management
Customer service
Develop Centers of Excellence
Centers of Excellence (COE) serve as the research arm for projects. The centers are typically focused on best practices, how supply chains are evolving (this includes people and processes) and what emerging technologies and data enhancements are available.
Subject matter experts in the COE bring a holistic view to the collaboration by defining what the transformation or project should look like. As members of the COE, these experts play a more strategic role in driving the business that may be different from their day-to-day roles.
If you're looking to become an industry leader, first survey the landscape.
Get the full study on today's modern supply chain, evolving business practices, and the factors driving digital transformation.
Leverage the collective power of committees
Both a steering and operations committee bring value to this collaboration. In addition to providing advice and setting direction, scope, goals, budgets, and timelines, the individuals that make up these committees can help alleviate obstacles and add agility to the project so it doesn't get derailed.
Ensure proper governance is in place
To minimize gray areas, proper governance must be in place. All members involved in the project must be well versed in the decision processes, systems, and rules that govern the collaboration with the goal of creating greater efficiency and to keep the project moving forward.
Here are some examples using S&OP process governance:
CAPEX investment to increase capacity
<$1MM: Pre-Executive Team may approve, >$1MM: Executive Team must approve.
Change in forecast to focus on revenue increase
0 – 10% change = Demand Planning may approve
25% change: Pre-Executive Team may approve
>25% change: Executive Team must approve
Increase in staffing by 10% (Supply Side)
Supply Squad + Plant Managers may approve
Increase production rates by 25% (mix with staffing)
Pre-Executive Team may approve
 2: Identify Obstacles that Could Slow Progress
No collaboration is without headaches, but being aware of these common challenges can prevent you from being blindsided during a project.
Not knowing who the final decision maker is
Do you know the individual(s) who can greenlight the project so the collaboration can move forward? In many companies, the CFO signs off on funding and resources. If there could be potential problems with this typical scenario, you need to know as soon as possible.
You can overcome this obstacle by creating a middle layer between the CFO and established committees. The operations committee for example is led by the project squad. They bring in leadership positions within that realm of supply chain with the authority to make decisions. Typically, these team members use a RACI to understand the parameters of the committee. [Please clarify if needed].
RACI chart
Example, illustrative – Demand Squad
Not having the right talent in place
The skills required to be successful in today's supply chain function are different than they were 10-15 years ago. Also consider that packaged solutions require different skill sets to implement on the IT side, and the systems need to be set up and maintained differently than in the past.
On the business side, there are new processes to consider. Finding people who can work in this environment to deliver results is often challenging.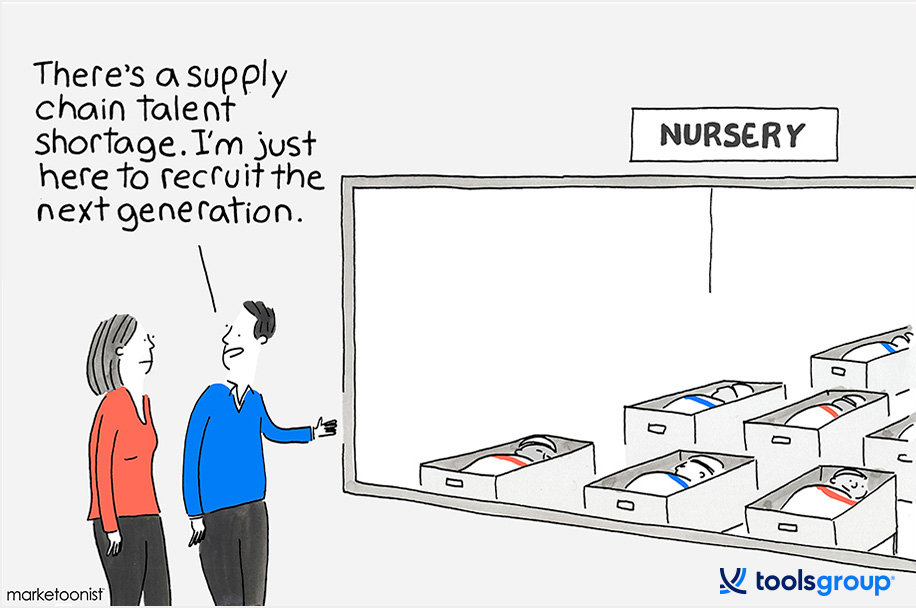 According to Supply Chain Careers, recruiting top supply chain talent isn't only about the money. The world has changed and top performers are looking for more than a paycheck. They want attractive perks, both big and small, ranging from flexible work schedules to health and wellness programs. Company brand and reputation are also major pluses when it comes to attracting and hiring the best and brightest.
Not having enough bandwidth
Even with the right people in place, prioritizing their time can be challenging and you run the risk of physical and mental burnout. To minimize this risk, companies are shying away from the large, multi-year transformation projects, which are overwhelming to execute. Organizations have realized that doing things incrementally is a much more successful collaborative approach. You can do small sprints to get you closer to achieving your goals.
There are many benefits to taking the incremental approach. A shift in mindset for instance. People see sprints as more manageable and therefore more achievable. Another added benefit is that you can pivot much more quickly if needed from lessons learned.
Maximizing seasonality and downtime to increase bandwidth may also work to your advantage. Depending on your business, you have a busy season and times where things are slower. If possible, avoid launching a project during the company's busy season. In other words, for your collaboration to be successful, use the squad to do the preplanning and brainstorming of the initiative during the busy season and execute in the off season.
3: Define and Measure Success
Alignment on business outcomes is one of the key measurements of collaboration success. The value to be delivered must be clear and must serve as the anchor for that measurement.
KPIs are only part of the puzzle. They too need to align within the deliverables and outcomes. To put it into perspective, you could deliver on one metric but fail to deliver on the promised business outcomes. Margin improvement, inventory productivity, service improvement, and reduction in costs are a few good metrics to track and measure.
And let's not forget the ultimate success indicator for any project or initiative: ROI. How quickly will the project see ROI? Consider the established timelines to see sufficient improvement which could range from revenue increase, working capital decrease or other pre-established indicators of success.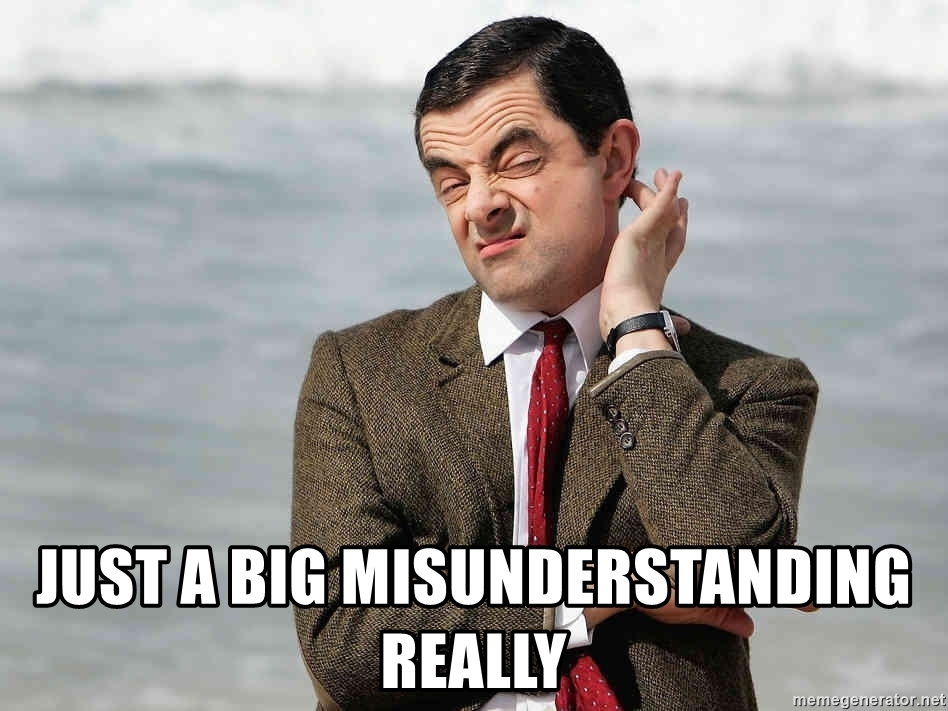 Key Takeaway: Effective Collaboration with IT is Critical to Building an Agile Supply Chain
As global supply chains continue to operate in an environment of volatility and disruption, achieving agility is top of mind for businesses both large and small.
The demand for technologies that can help achieve that agility is at an all-time high and organizations that recognize the benefit of the supply chain-IT partnership, and underscore the importance of that relationship will be in better shape than their competitors.
About Slalom
Slalom is a global consulting firm focused on strategy, technology, and business transformation. In 41 markets around the world, Slalom's teams have autonomy to move fast and do what's right. They are backed by regional innovation hubs, a global culture of collaboration, and partnerships with the world's top technology providers.
Gautam Narayan runs Slalom's Global Supply Chain Planning practice. He has worked with clients in several industries including Life Sciences, Consumer Products, Retail, Apparel & Fashion, Automotive, and Technology, to address their thorniest problems.