Like most industries, manufacturers around the world are feeling the pinch of inventory disruption brought on by shortages and other supply chain challenges.
But manufacturers are unique. Unlike many businesses who sell finished products, manufacturers have several moving parts when it comes to inventory because they employ a variety of supplies and processes to make products—from raw materials and sub assembly to production to finished products.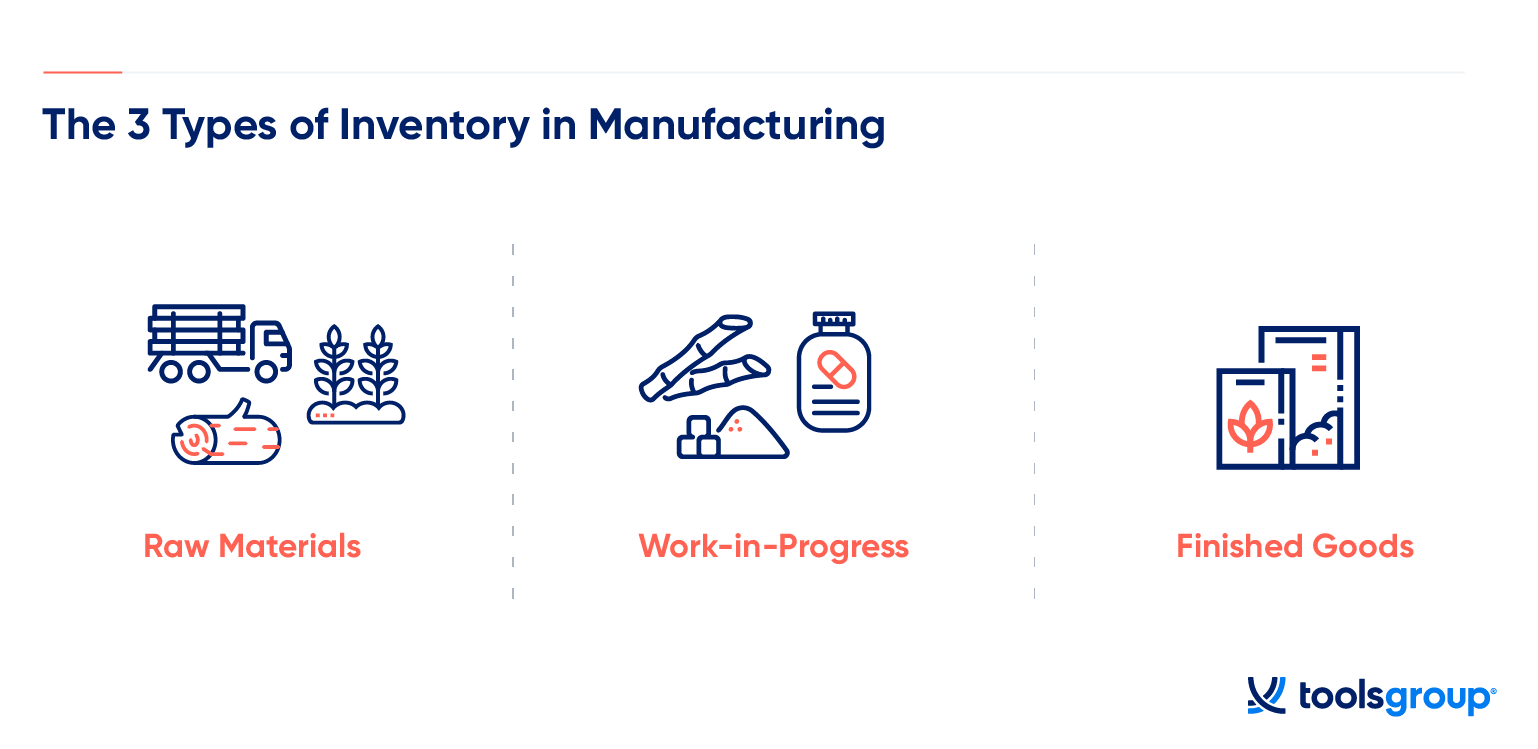 Depending on what report you read, manufacturers are either stockpiling inventory to meet service levels or scrambling to stock up on inventory and often miss the mark due to shortages.
The need for better inventory control is critical for companies who want to deliver for customers and maximize profits, despite market volatility and disruption.
What is Manufacturing Inventory Control?
Simply put, manufacturing inventory control is keeping enough stock on hand—raw materials, parts, and even finished goods—to meet customer demand.
For manufacturers, the overall health of the supply chain is one reason inventory control is so critical; it has a direct impact on profits through an income statement item called cost of goods sold (COGS).
Since manufacturers depend on inventory to make goods for which they expect to be paid, knowing how much inventory is on hand and what parts are needed for upcoming products allows them to place orders to maintain adequate stock levels.
4 Common Inventory Pitfalls Manufacturers Must Avoid
As a plethora of challenges continue to haunt the supply chain, getting a handle on the risks to the business is a step in the right direction—one of the keys to developing a successful inventory control strategy.
Effectively Managing Service Levels: Shortages vs. Excess Inventory
Most companies carry too much of the wrong inventory and not enough of what they need.
Manufacturers can also fall prey to this challenging balancing act. Companies from Samsung to Ford are seeing a sharp increase in inventory, as consumer demand weakens amid surging inflation.
Furthermore, the growing chip shortage is prompting the automotive industry to order surplus semiconductors—about 10 to 20 percent more than needed—to ensure inventory and safeguard production.
Intel's CEO says he expects the chip shortage to last into 2024 due to constrained availability of key manufacturing tools.
Do you have whiplash yet? Inventory control is a delicate balancing act that manufacturers cannot afford to get wrong.

Unreliable Forecasting
Getting the forecast right is still challenging for many supply chains.
Industrial manufacturers with large product portfolios or aftermarket parts mixes, for example, face unique supply chain planning challenges including lots of slow moving products. This "long-tail" demand is variable and hard to predict.
Today's complex and uncertain world requires flexible, adaptable supply chains. So, it's time to level up your planning with digital tools that are designed to forecast intermittent demand, balance service levels with inventory costs, increase sales and market growth share.
Rising Costs of a Tight Labor Market
The labor crunch is being felt across most industries and shows no signs of abating.
For manufacturers, there is a direct relationship between a tight labor market and the delivery and pricing of products, as they look to absorb some of the higher labor costs by pricing products higher. Labor costs, especially for hard to fill or executive positions, impact manufacturing operations costs.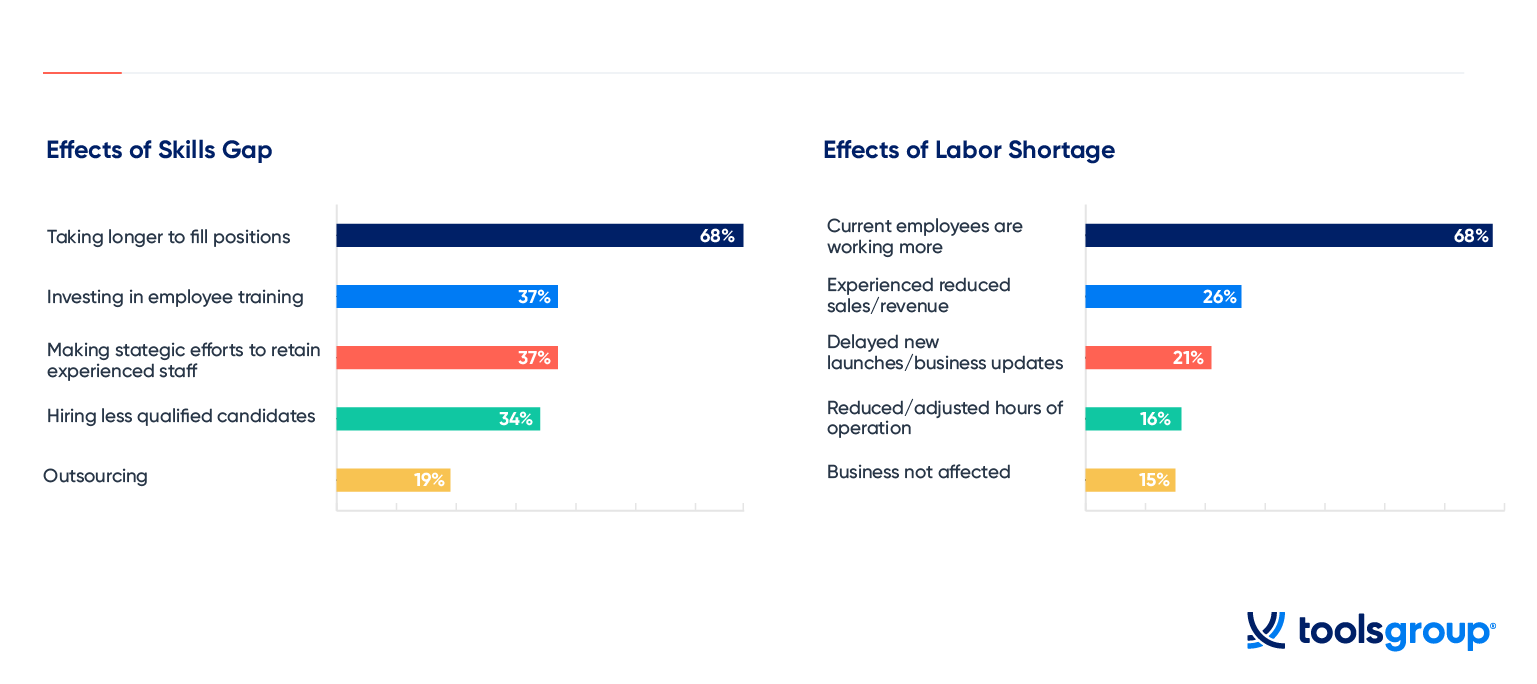 According to the 2022 JP Morgan Business Outlook Survey, 70% of the respondents said that recruitment and retention constituted their second largest concern behind inflation. The company believes it will need to get creative to fill positions and keep current employees. They also expect to pay higher wages for talent.Attract, develop, and retain top supply chain talent like a pro with expert advice, insights, and real-world strategies you can apply right now to meet your recruitment goals.
Inevitable Production Constraints and Supplier Uncertainty
The pressure to operate efficiently is higher than ever. You must make smart decisions about use of manufacturing capacity and working capital.
With so many processes to balance, amid constrained or uncertain supply (e.g. packaging material shortages causing out-of-stock of finished products), it's tough to assess impacts to lead times and service.
Don't put all your eggs in one basket when it comes to suppliers.
Relying on a single source supplier or group of suppliers can have a ripple effect on your ability to meet service levels when shipments are late, delayed or out of stock of the materials you need.
Diversify suppliers to a strategic mix of foreign and domestic, set clear expectations and prioritize suppliers based on how critical they are to your business.
Inventory Control: 7 Strategies to Ensure High Service Levels and Maximum Profit
Now that we've identified some of the mistakes manufacturers must avoid, it's time to examine the steps to take to get better control over inventory challenges. The key is to consider the end goal: service delivery.
Here are seven strategies you can employ to control inventory to meet service levels.
Address Long Lead Times in the Demand Planning and Forecasting Process
Lead times continue to lengthen for manufacturers as ports in China and elsewhere remain clogged up, demand continues to be high, and transportation companies struggle to find drivers.
In fact, delivery lead times between China and the US more than doubled between January 2020 and January 2022, and by March 2022, the average number of days it took for a shipping container to reach the US was 107.

Accounting for longer lead times in the demand planning and forecasting process sets the stage for minimizing risks to your inventory and service levels.
When combined with probabilistic forecasting, your chances of an accurate forecast increases dramatically, so you have the right inventory in the right place at the right time.
Make the Best Use of Inventory You Have
Make sure the inventory you do have is being put to the best use.
This is where an advanced supply chain planning system can really shine, by allocating the stock you have on hand according to your business goals, e.g. profitability, sales maximization or others.
Automatically optimized "fair share allocation" helps you determine the best way to allocate scarce resources until supply can be replenished.
Be Strategic About What You Order
There's no guarantee that the supply you normally order will be available, so it pays to be smart about what you order to maximize service and profitability.
Identify the products that are surging in demand versus dwindling
Determine the strategic value of each product in your portfolio
Analyze which supply orders will contribute to higher margin sales, which are most likely to sell, or what's needed to fulfill backorders quickly
Don't let inventory disruption derail your business goals and undermine profit. Unlock the 10 strategies you can use right now to maximize service levels and profit amid continuous disruption and skyrocketing costs
Ramp Up Digital Planning to Drive Agility and Thrive Despite Disruption
Imagine you're managing inventory in a long supply chain. Your inventory consists of raw material (the tree) to the finished product in your warehouse.
Manufacturing takes place near the source of raw material, while customers are located mostly in distant metropolitan areas. And at any given time, much of your inventory could be stuck in transit.
Consumer goods manufacturer Boise didn't have to imagine this scenario. It was their reality until they invested in an inventory optimization solution that cut inventory by 20% and revealed the true impact of variable supply.
Want to learn more about Boise's success and how their strategies could be applied to your own supply chain?
Check out
Boise's full customer story. →
Here are some additional tips to consider:
Use scenario planning to understand the inventory and margin impact of planning and policy decisions.
Accurately forecast intermittent demand and slow-moving inventory to make smart inventory decisions in highly uncertain environments.
Orchestrate and optimize the entire production operation, including improved visibility into production and accelerated throughput.
Invest in Inventory Optimization Designed for Uncertain Environments
Every supply chain wants to reduce inventory risk and deliver outstanding service to customers.
Luckily, supply chains are accelerating their digital transformation plans.
In fact, according to the 2022 Digital Transformation Survey conducted by ToolsGroup and the Council of Supply Chain Management Professionals (CSCMP), 93% of companies say they are actively engaged in the digital transformation process.Wondering what other insights your industry peers shared?Check out the full survey report here.
That means there is more choice than ever before for robust, sophisticated tools to make supply chains more intelligent, resilient, and profitable.
The trick is to choose the tool that's right for your business because not all solutions are created equal. Volatility and disruption are a fact of life and although the pandemic revealed massive cracks in the supply chain, it also presented an opportunity for transformation that will propel the supply chain to be a force for good.
Here are a few tips for digitalizing your inventory planning and management.
Optimize for uncertain demand, especially when managing slow moving and intermittent items.
Maximize service levels while minimizing inventory – your planning solution should be able to differentiate between service and inventory targets across multiple layers of your supply chain.
Free up working capital by using advanced modeling and artificial intelligence (AI) to optimize inventory at the individual SKU and location level.
Check out the 7-Step Guide to Supply Chain Planning Investments and get the complete how-to on smart technology selection.
Consider Inventory Costs When You Manufacture Products
Dead or obsolete inventory cost manufacturers millions annually. Inventory-carrying costs rose by 26% in 2021 and will continue to rise.
When calculating total cost incurred to manufacture your finished goods, consider the cost of inventory in the equation if you're not already doing so.
This is where your digital planning can really shine. The right tool will provide real-time visibility into your inventory, so you don't end up buying stock you don't need.

Move Facilities and Workers Closer to Home if Possible
Businesses are embracing the idea of bringing manufacturing back to the U.S. at least partially, to respond more quickly to volatility and fluctuating market demands.
Manufacturing giants like Ford, Toyota, Micron Technology and even Samsung are investing in manufacturing plants in the U.S.
It's absolutely about being close to customers," said Tim Ingle, Group Vice President for Enterprise Strategy at Toyota Motor North America. "It's a big endeavor, but it's the future."
Reshoring may require a lot of planning, innovation, and overhaul of the supply chain but surprisingly, the companies best suited for this endeavor are smaller, independent brands, including some apparel manufacturers.
Shipping disruptions are quoted as the biggest threats to supply chain flexibility and speed, so it's logical to assume that bringing apparel manufacturing back to the U.S. would minimize that threat.
Final Takeaways
Although the inventory challenges manufacturers face may be unique, that uniqueness presents an opportunity for innovation—an acceleration of digital planning capabilities.
Supply chain disruption is here to stay and that means re-writing the playbook if necessary to have the right inventory in the right place at the right time to delight your customers, maximize profits, and make the supply chain a force for good.There are many strategies for developing an efficient supply chain. Rethinking your application of technology is a critical one.</pWondering how the right solution could boost your bottom line and benefit your supply chain?Check out the Benefits Calculator and get a customized report in just 5 easy steps.