My eight-year-old self counted down the days to October 1 – the day my mother finally let me bedeck her spotless house with cobwebs and window clings of ghosts and goblins.
It never occurred to me then that someone had to decide how many pumpkins to stock in my little town, or how many tubs of orange icing would be needed for school cupcakes, or how much assorted candy would be required for neighborhood Trick-or-Treating.
But behind the scenes, demand planners were at work, trying to strike a balance that would help them turn a profit and meet demand without being saddled with rotting pumpkins come November 1.
Today the stakes are even higher, with the ever-present ghost of disruption rattling supply chains around the world.
More than ever, seasonal inventory needs to be carefully accounted for during the demand forecasting and inventory planning process, ensuring right-sized inventory that can meet customer expectations while limiting the spend and use of working capital.
The better your understanding and management of seasonal stock, the less the specter of supply chain disruption will keep you up at night.
Seasonal inventory refers to goods associated with specific periods or events that cause demand fluctuation throughout the year.
Parents Santa needs to get that popular doll in time for Christmas morning, so there are hundreds lining the shelves. Or perhaps, it's early summer and the local hardware store just got a new shipment of lawn mowers.
But understanding seasonal inventory is vital, no matter what industry you're in.
With seasonality in mind, you can optimize your production lines to produce more boots than you need over the course of the year, creating a reasonable stockpile for when demand spikes in the winter.
If you're a distributor, you want to plan your inventory carefully so you're not bogged down by storage costs for post-season items that limit your capacity as the next season approaches.
For instance, there may be a slow-moving bolt that will really come in handy when snow plows hit the roads, but you don't want a warehouseful of those bolts during the summer.
If you're in the consumer goods sector, seasonality affects items like pumpkin carvers, or food products, like Peeps.
You'll want to make sure you're sensing changes in demand quickly to capitalize on the season without being stuck with excess inventory afterward. (Though, apparently, some people prefer their Peeps aged…We won't go down that rabbit hole.)
Each of these has its own nuances to consider when evaluating your product portfolio and can boost to your bottom line if handled well.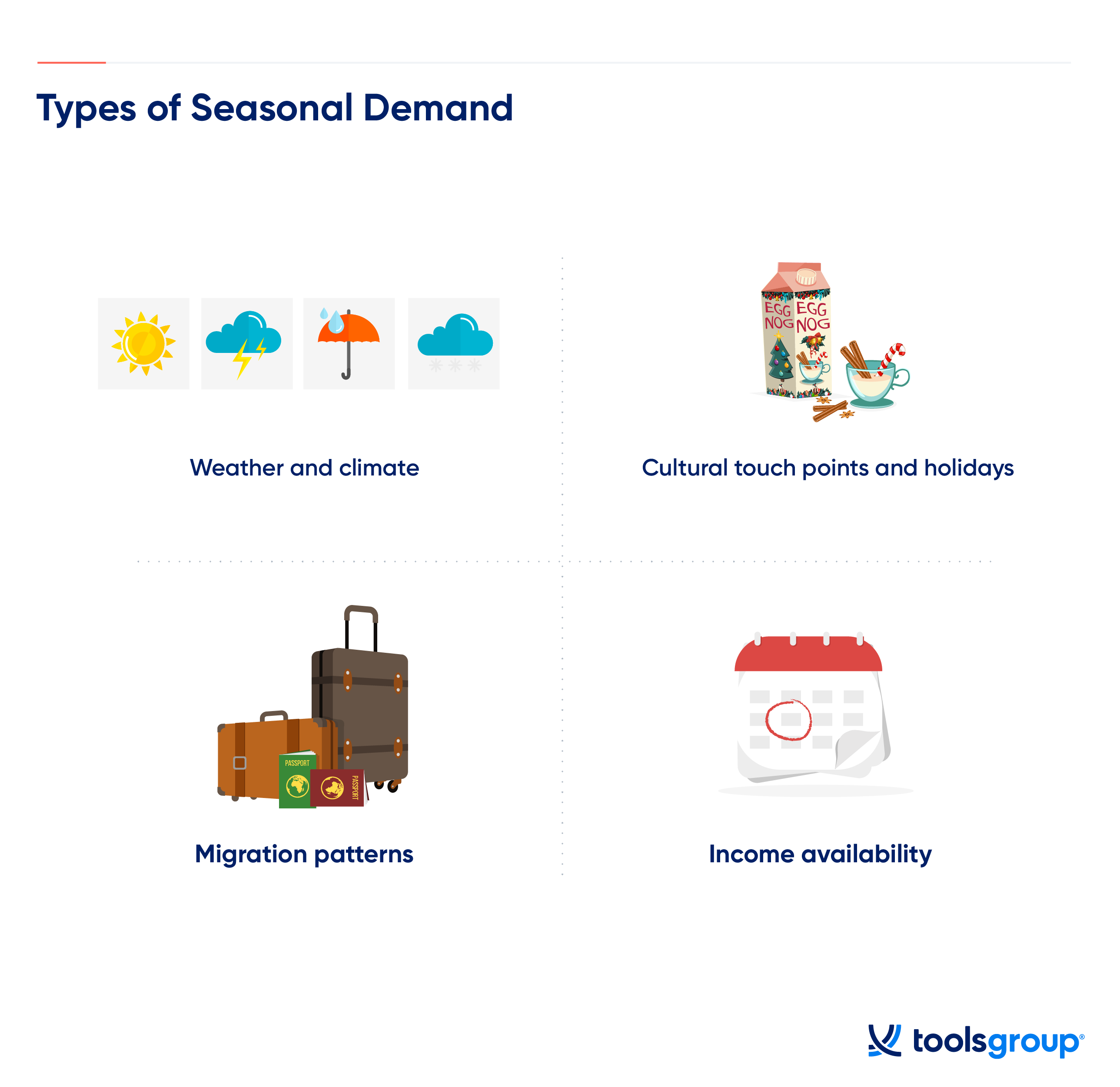 Weather and Climate
Weather plays a pretty obvious role in seasonality.
Snow tires show up as soon as the weather starts getting cold, and beach towels hit the racks even before the snow has finished melting in some regions.
Keep in mind the geographical aspect of this as well.
Some products that are considered "seasonal" in one region may experience continuous demand in another region due to climate.
You'll want to keep this in mind when doing your localized assortment planning.
For instance, there's more likely to be a steady demand for flip flops in Santa Monica year-round than in Boston (unless you're one of those New Englanders that just doesn't care).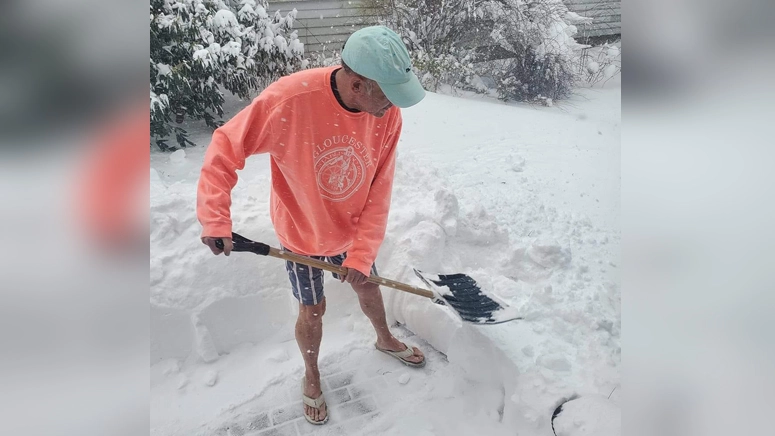 Local man unfazed by latest blizzard.
Cultural Touch Points and Holidays
Let's illustrate cultural touch points with some examples.
Chances are you'll sell more notebooks during the back-to-school rush than in Spring when classes are ending.
Geographical regions play a role here, too.
You're probably selling more shamrock headbands in the Northeast heading into March 17, and more purple and yellow beaded necklaces during Mardi Gras in New Orleans.
Moreover, significant events like the Olympics, the World Cup, or the World Series–coupled with promotional planning–may cause spikes in product demand or require specially branded merchandise that has a limited run.
Migration Patterns
Obviously, there are influxes of tourists and vacationers during the summer months at popular destinations around the world.
In fact, in 2022, 77% of Europeans planned to travel between April and September.
But while it may be considered peak season, summer isn't the only migration period.
With cheaper rates, smaller crowds, and the lure of warmer weather, 23% of Americans prefer winter vacations to summer ones.
Migration patterns like these won't just affect seasonal items like bathing suits or sunscreen.
This influx of people to the region may also increase the demand for staple items like toothpaste, milk, and gas.

Income Availability
The final factor in seasonal demand is income availability.
Perhaps it's the close of tax season when people are getting their returns, and they've got a little surplus discretionary spending.
You may see a bump in sales or increased demand for more luxury items.
Keep in mind…
In the past, families spent roughly $180 more than typical on the day they got their tax refund.
Today, however, especially with growing concerns about inflation, 46% of consumers plan to squirrel away their tax refund, limiting the typical seasonal influx companies depend on to boost sales and buoy the market.
The Monkey Wrench: The Challenges of Seasonal Product Management
This sounds straightforward, but things get complicated quickly when uncertainty and disruptions throw your forecasts and inventory levels for a loop.
The more you know, the better you can prepare, so let's take a look at the obstacles to efficient seasonal inventory management.
Clunky Planning Processes
Some challenges stem from slow, non-data-driven planning processes, often supported by manual and tedious planning practices.
Did one wrong guesstimate in a spreadsheet send too much inventory to the wrong store?
Could your planning systems not sense rapid changes in demand in time?
Is your historical data not a reliable enough foundation for your forecast?
Or have siloed operations stymied planning collaboration?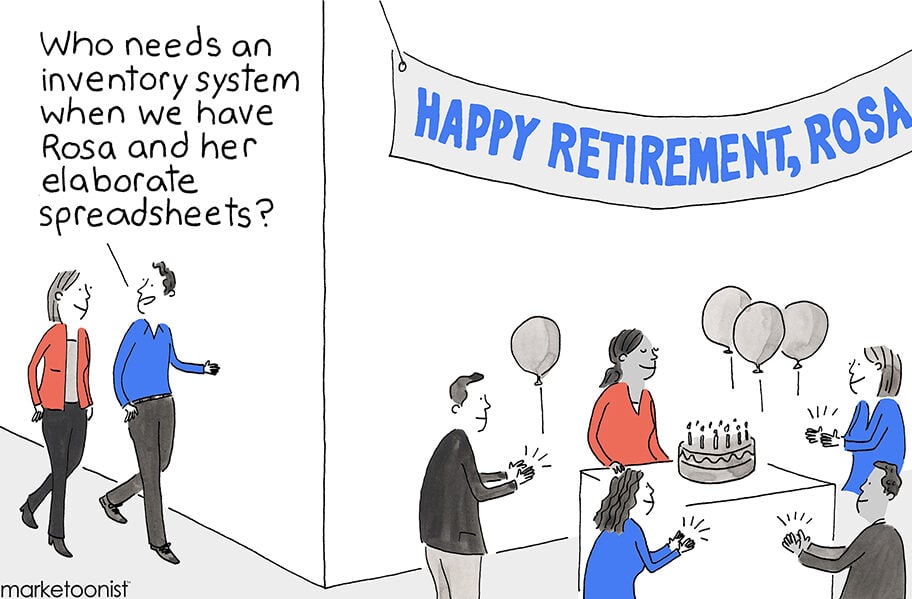 If you lack the forecast accuracy and automation that allow planners to pivot quickly to meet surging demand and sense the postseason drop-off, you could end up unable to meet service targets or hampered by leftover inventory.
And without real-time inventory visibility, you can't optimize your allocation and fulfillment plans to meet customer demand.
Unforeseen Events and Disruptions
If the past three years have proven anything, it's that supply chains need to be ready for the unexpected.
Planners know they need to account for external variables, but it can be tough to predict.
Even experienced planners who have a good feel for their consumer base and industry can't incorporate all the external factors that impact their inventory control.
Let's say there's an unexpected heat wave and suddenly everyone needs a new AC unit.
If you're a manufacturer, have you produced enough?
If you're a retailer, is your inventory already marked down or even still in stock?
If you're a distributor, do you have enough spare parts to fulfill the sudden surge of maintenance requests?
Unexpected problems like these can cause major issues with inventory management that result in missed revenue opportunities and a damaged brand reputation.
Forewarned is forearmed. When disruption strikes, have your plan ready.
Check out 8 Winning Strategies to Combat Supply Shortages and discover the tactics you need to fulfill demand even in the midst of uncertainty.
In It for the Long Haul: Evolving Consumer Behaviors and Elongated Holiday Shopping Periods
The final complicating factor in the seasonal stock management process is the changing and expanding holiday shopping window.
In the 1947 classic, "Miracle on 34th Street," Santa Claus rides the final float of the Macy's Thanksgiving Day parade, officially ushering in the start of the Christmas shopping season.
This precedent lasted for decades, and over the years, Black Friday became the phenomenon that helped companies make their quotas and shoppers find great deals.
But by 2018, one Business Insider article declared "Black Friday is dead."
It cited that the number of people visiting stores that day had dropped 4.5% due to the increased availability of discounts year round, as well as a spike in ecommerce options as Cyber Monday gained traction.
Covid only accelerated these shifts in shopping behavior.
With disruptions stoking fears of supply shortages and prolonged lead times, shoppers began factoring in extra time to get gifts.
My own family sent out wish lists early that year, and we likely weren't the only ones; in 2020, Amazon scheduled its Prime Day for October, "unofficially marking the beginning of holiday sales."
And according to the National Retail Federation, retailers that year began hiring seasonal staff in October also, well ahead of the holiday season, in anticipation of earlier shopping periods.
Considering the ongoing retail trends, it's possible that the holiday shopping window will continue to be pushed earlier and earlier, even when (or if) supply chains settle back into a more regular cadence.

Here's a screenshot taken from a YouTube ad on October 4, 2022. It had accompanying holiday music and messaging.
If companies are to manage their seasonal stock effectively, they must account for this elongated shopping period, fulfilling demand whenever customers start browsing, while preparing for possible (and usually imminent) supply chain disruptions.
The Dangers of Mishandled Seasonal Products
The challenges outlined above can lead to some major inventory issues.
There are innovative ways to tackle these challenges, but first let's examine how they put a hitch in your supply chain.
Stock Outs
Can your forecast show you how each SKU will behave at each location during the season? Is your replenishment process ready for the surge of consumer demand?
If not, you're vulnerable to lost sales and decreased brand loyalty.
Since these products have a limited season, time is of the essence and a lost sale is lost forever. You need your product in the right place at the right time.
Many companies struggle with this; online out-of-stock notifications during the holiday season increased 256% from 2019 to 2021.
Moreover, consumers are spoiled for choice.
If you don't have an item they want, when and where they want it, they can simply go elsewhere (or go online) and order it from someone who does. In fact, when a store is out-of-stock for an item they planned to buy, 21% of consumers will leave and buy the item from a competitor.

Excessive Stock
Having too much stock is as problematic as having too little.
Maybe your forecasting was skewed by unreliable historical data, the bullwhip effect, or a cumbersome manual planning process.
Maybe you ran into trouble scaling your forecast throughout the product life cycle and you calculated too much safety stock.
All of these supply chain planning struggles can leave you with imbalanced stock, cluttering up your shelves and precious warehouse space.

Increased Business Costs
Excess inventory can endanger your bottom line because you're left with the question: what will you do with seasonal stock you can't sell?
The Storage Problem
If inventory isn't moving, it's taking up valuable space and eroding your budget.
In fact, thanks to low vacancy and occupier demand, warehousing property costs are rising worldwide, seeing an average increase of 8.4% across 52 global markets between June 2021 and June 2022.
Seasonal products that don't make it out of the warehouse are doomed to sit there until the season rolls around again–especially if they are long-tail items that service seasonally-affected machinery and automotive parts.
And that's assuming seasonal items won't become obsolete or go out of fashion in that time.
Markdowns and Returns
If a retailer cannot move enough merchandise within the set timeframe, it may be forced to offer considerable markdowns, resulting in lower margins.
Retailers also face the curse of the white elephant.
In January 2022, 37% of shoppers said they planned to return gifts this year. Ecommerce alone has seen a 35% return rate, up from a baseline of 16%.
As the cost of processing returns grows, retailers are beginning to reconsider their free returns policy.

7 Ways to Improve Seasonal Inventory Management with Technology
The good news is you can protect your bottom line and keep customer satisfaction high by finding those "just right" stock levels.
Here are seven methods successful companies are employing to better understand the behavior of their seasonal products and right-size their inventory for maximum profit and customer satisfaction.
1. Enable Supply Chain Visibility
You need visibility both in terms of inventory and interdepartmental planning.
Having real-time visibility across your supply chain and understanding how your stock is positioned is vital to accurately assessing the health of your inventory and streamlining order fulfillment. (More on the omnichannel advantage of this in a moment.)
On the organizational side, breaking down departmental silos ensures teams aren't working at cross-purposes.
For example, if the marketing team has planned a series of promotions, the planning team needs to understand how to position stock to best meet demand depending on the regional profile of each SKU.
For all of this, you need a solution that provides your entire organization with a single source of truth, helping teams align on inventory positioning, financial decisions, and business planning.
Need to connect teams and streamline planning to achieve your business objectives?
Bridge the gap between strategy and operations to improve plan accuracy with a refined Sales & Operations Planning process.
2. Improve Efficiency Through AI and Automation
Let artificial intelligence do the hard work for you.
An AI-based automated solution eliminates human error, miscommunications, and inefficiency, saving your team from manual calculations and planning-related drudgery, while giving them the information they need to make smart, data-driven planning decisions.
These solutions use adaptive machine learning engines that process data rapidly, pinpoint demand patterns, and adapt to changeable trends quickly.
This helps you stay ahead of seasonal demand fluctuations, keep up with changing consumer expectations, and increase your supply chain's flexibility.
3. Fine-Tune Your Forecasting
Forecasting errors are the root of a myriad of supply chain problems, but rethinking your forecasting method can help you avoid common mishaps and turn forecasting into an asset instead of a liability.
Embrace Machine Learning
If you're dealing with seasonality, machine learning is one of your best friends.
It categorizes seasonal products, determines external demand causals, and aligns promotions. It also filters out demand noise so you get a cleaner, more accurate baseline forecast.
These advantages give you a better understanding of your product behavior and help you navigate the uncertainties surrounding both seasonal items and new product introductions.
Machine learning is a fantastic tool…if you know where to start.
Get the basics and revitalize your supply chain with the latest innovation and labor-saving planning technologies.
Probabilistic Forecasting
Adaptive, probabilistic forecasting works differently from traditional forecasting.
Instead of calculating one number for your forecast and hoping for the best, probabilistic forecasting helps you make better-informed decisions by providing a range of forecast outcomes and the likelihood of each one.
And with machine learning factoring in demand history, external variables, and internal demand-related data, you can better understand your seasonal products' behavior and account for fluctuations in demand, safeguarding your customer experience while keeping inventory under control.
Watch this video for a 60-second breakdown: Seasonal Inventory and 7 Ways to Manage It Effectively – ToolsGroup
Understand the Product Life Cycle
When dealing with seasonal items, understanding product forecasting and how it changes over the course of the product life cycle is vital–especially when dealing with new seasonal products for which you have no or limited demand history.
Proper demand sensing can quickly sense changes in demand and assess whether the product is transitioning into the next life cycle phase.
Demand modeling monitors the situation automatically and alerts planners to out-of-the-ordinary events, allowing them to manage by exception, streamlining processes and saving time during busy seasons.
Looking for a more detailed look at how life cycles affect your forecast?
Head over to Product Forecasting: Understanding Demand Throughout the Product Life Cycle.
Check out the keys to effective product forecasting →
4. Optimize Your Inventory
Planners need to ensure right-sized inventory in order to put working capital to the best use while still meeting customer expectations.
The right multi-echelon inventory optimization solution can balance inventory requirements and service level targets on a more granular level and at every tier of your distribution network.
By assigning service level requirements to individual SKUs, planners can account for differences in demand between regions and locations, keeping items in stock while maximizing cash flow.
Strategic inventory control starts with a complete assessment of the latest risks, opportunities, and tactics for attracting and maintaining a happy customer base.
Get everything you need to know with the State of Retail Inventory.
5. Allocate Efficiently
Allocating properly ensures the item is on the shelf, when and where the customer wants it.
A strong allocation solution reduces the margin for human error using machine learning capabilities to assign inventory to the proper locations.
Since your seasonal products have limited lifecycles, your company's ability to maximize each SKU's profitability–while the item is still in demand–can lead to higher margins, more sales, decreased costs, and improved planner productivity.
Case Study- Global Footwear Retailer
This giant in athletic footwear, apparel, equipment and accessories improved the accuracy of allocations with over two million incremental units sold through vs the year prior.
6. Adopt Smarter, More Responsive Replenishment
An effective, automated replenishment solution facilitates the rapid replenishment of stock, supported by service-driven inventory planning that keeps shelves stocked with those in-demand items.
It helps you find the sweet spot, making sure you're not overstocking while still achieving target service levels throughout the season.
7. Spruce Up Your Omnichannel Strategy
Consider the different purchasing journeys customers take during the holidays.
Maybe they are browsing websites for the perfect grill at the best price or combing online reviews to see if an item is true to size.
Maybe they've waited too long to buy that gift, and the deciding factor is now fast shipping or a dependable BOPIS (buy online, pick up in-store) experience.
Maybe they're in the checkout aisle and they weren't planning on picking up those flashing Happy 2023 glasses, but suddenly those glasses are in their cart. (Once in-store, consumers report that up to 22% of their total bill is made up of impulse purchases.)
As omnichannel becomes an increasingly important facet of fulfillment, set your company up for success by incorporating seasonal inventory into your ecommerce operations.
For instance, with network-wide, real-time inventory visibility, you can more quickly and efficiently fulfill customer orders by:
Fulfilling from a store rather than a warehouse to reduce excess stock in retail locations
Displaying accurate in-stock quantities for ecommerce orders
Ensuring BOPIS (buy online, pick up in-store) orders can be filled
By making it easy for consumers to order through any channel and select delivery or store pick-up, you'll increase brand loyalty and the likelihood of repeat customers, while setting optimal inventory levels and making sure stock is in the best location to meet customer needs.
Your omnichannel strategy can best serve customers when you understand their behaviors.
That's why we partnered with retail advisory firm IHL to conduct original consumer research on How Retailers Win Loyalty in an Omnichannel World.
Finding include:
How customer trust in retailer inventory levels has changed over the past two ears
How out-of-stocks impact customer loyalty and retention
Technology's role in creating a flawless omnichannel experience that improves profitability
The Benefits of Efficient Seasonal Inventory Management
Effective seasonal inventory management is good for your customers, the planet, your employees, and your bottom line.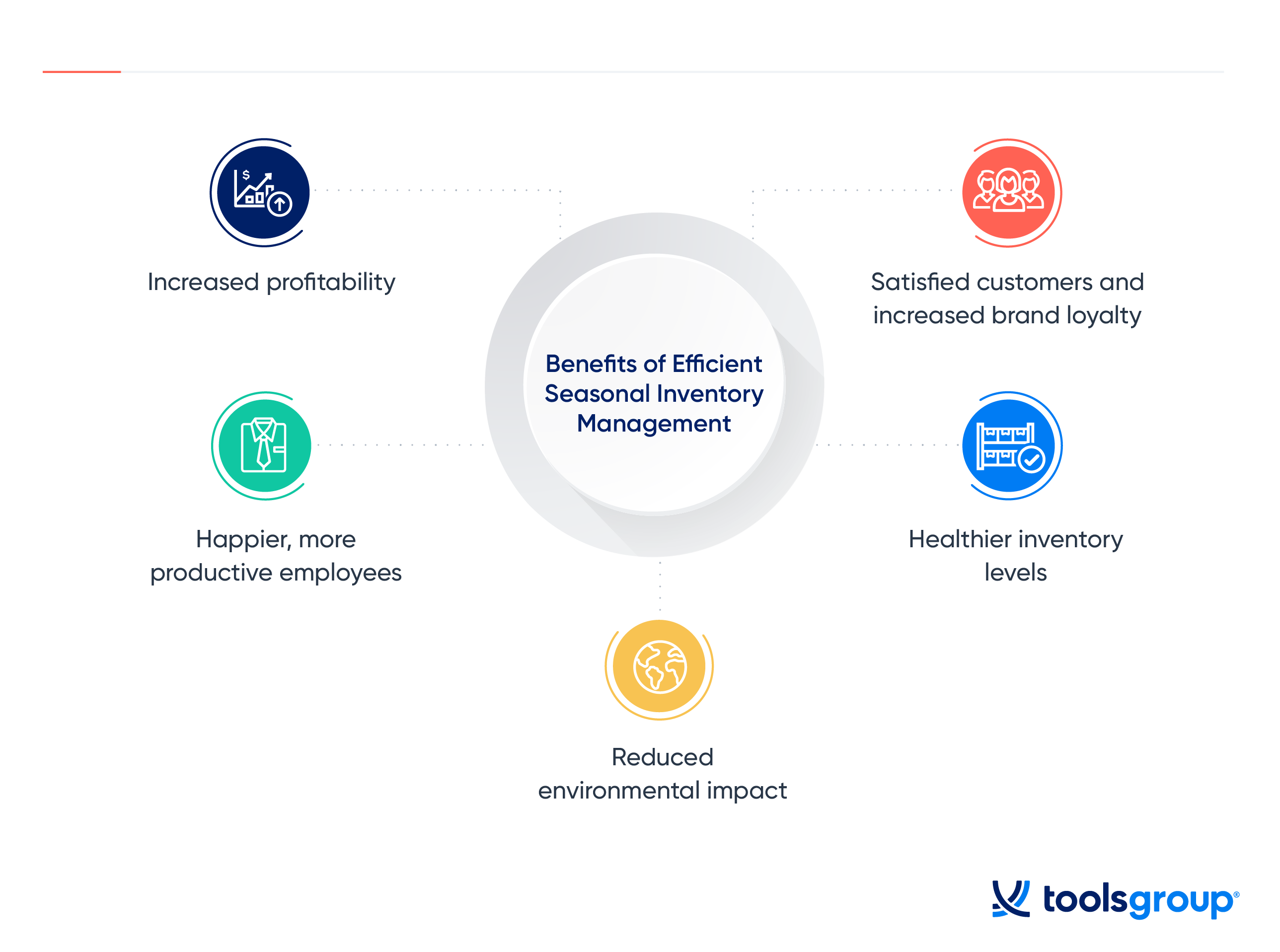 With smart management of seasonal products, the right amount of inventory is in the right place at the right time, ensuring happy customers and increasing your margins.
By limiting expedited shipping to fill in inventory holes and avoiding a glut of left-over seasonal goods, you're not reducing storage and logistics costs and freeing up capital.
You're also minimizing your carbon footprint and eliminating waste, reducing your impact on the environment.
Plus, when your planners are putting AI to work, they have time to focus their attention on more value-added activities and are no longer vulnerable to the stresses of an inefficient and labor-heavy planning process.
Alleviating their workload and giving them a little breathing room will boost morale and reduce the risk of turnover, ensuring you attract good talent and hold on to valuable, experienced employees.
And considering the costs of turnover and the fact that more consumers are beginning to prioritize eco-friendly products and companies, you're making smart fiscal decisions that will attract buyers, support your company's growth, and increase profitability.
Looking Ahead: Seasonality and Supply Chain in the Upcoming Holiday Season and Beyond
In 2021, seasonality made life a little difficult for supply chain planners.
Here's a quick survey of the general supply chain trends from last year.
So when you're implementing these seasonal inventory management strategies, in what environment will you be operating as we wrap up 2022 and head into 2023?
Here's a look at some predictions for the 2022 holiday season and beyond.
Seasonal inventory can be a powerful part of your product portfolio.
Put it to good use by investing in the right technology to manage uncertainty and complexity so you can keep customers happy and maximize your profitability.Going beyond seasonality…Seasonality is an important part of the inventory equation, but it's not the only factor.Check out the Guide to Overcoming Inventory Disruption to Maximize Service Levels and Profit for 10 top-tier strategies for effectively managing stock and outsmarting uncertainty.
The source of this article is from ToolsGroup
By Mary Vasile